To be known as one of the leading units in the field of M&E installation and construction in Vietnam, for Sigma, the principles of Quality, Safety, and Occupational Hygiene (OSH) are always considered the top priority. This has been clearly demonstrated through many projects such as British University Vietnam, The Legend, The 6th Element, etc.

Complying with the provisions of Vietnamese law, on April 23, 2022, Sigma Engineering JSC cooperated with the Vietnam Control Center for Occupational Safety Inspection and Training to organize an occupational accident first aid training course for the safety management team and medical team at the Masteri West Heights project.
This is especially important when employees are cared for and protected at the location and at the time of the accident, suffer from an occupational disease, and minimize the risk of affecting the quality of treatment after the accident. as well as minimizing adverse effects on the health of workers. Even first aid can save the lives of workers suffering from accidents or serious occupational diseases such as stroke, poisoning, fainting when exposed to a toxic environment, or having an accident that causes serious injury, loss of blood...

The content of the training session includes the following main topics:
Basic principles of first aid, on-site first aid

Wound dressing technique

Temporary hemostasis technique

Temporary fracture fixation technique

Cardiopulmonary resuscitation technique

How to deal with burns

Method of transporting the victim safely without a stretcher and with a stretcher for first aid

Techniques of first aid in case of electric shock, drowning, thermal shock... chemical splashes...

Advice on some prevention skills such as heatstroke prevention for people working outdoors, in environments with toxic gases, etc.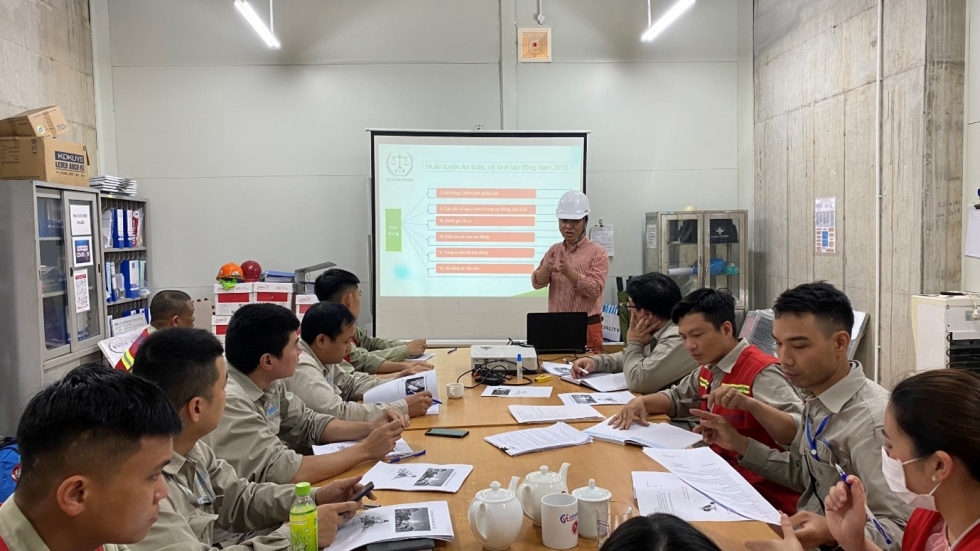 Some photos of the training class
At the training session, the participants were provided with basic knowledge and skills to deal with accidents related to accidents on the construction site. This is a training session with serious preparation of people as well as equipment for accident first aid.

The training session is also an opportunity for the first aid and emergency response team at the project to update their knowledge about first aid for occupational accidents, thereby taking the initiative in handling when an accident occurs.

Some other pictures from the training class: