Overall about maintenance & services at Sigma
We provide outstanding Planned Preventative and Corrective maintenance with mechanical, electrical and sustainability at the heart of our operations. Our work covers high profile and complex sites at locations across Vietnam for the wide range of corporations. We maintain critical services so buildings can function for their intended use. We offer Planned Preventative maintenance through efficient management to ensure the longevity of assets and improve the reliability of equipment. Effective Planned Preventive maintenance can be self-financing providing solid returns in terms of equipment availability, Health & Safety, environmental protection, product and service quality, and lower operating costs.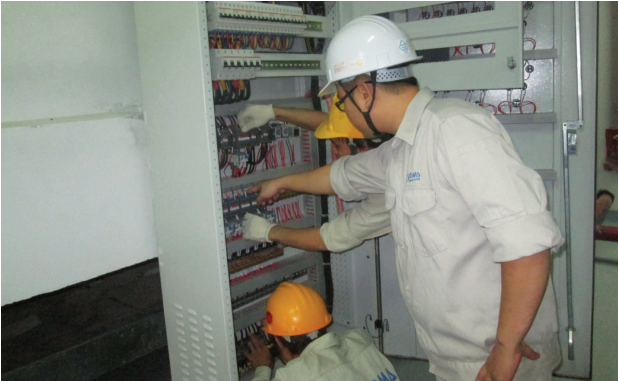 Identifying the importance of M&E maintenance, a maintenance & services division has established in Sigma based on the rigorous standards, provides the perfect selection for the project.

Our services
Each machine is composed of complex devices with closely related and mutual support, influence in the operation of the whole system. There are devices easy to see, but also ones invisible from the outside. After being used for a time, they wear out and if we do not detect early, the damage is unpredicted. Without maintenance activities and machines remain in poor condition, the equipment's lifetime will be shortened, they get damaged and lead to more and more expensive repair costs after all.

Understanding this issue, maintenance and services division in Sigma provides comprehensive maintenance services for M&E system, including two key measures:
PREVENTIVE MAINTENANCE: Preventive maintenance involves the systematic inspection of equipment where potential problems are detected and corrected in order to prevent equipment failure before it happens. In practice, a preventive maintenance schedule may include things such as cleaning, lubrication, oil changes, adjustments, repairs, inspecting and replacing parts, and partial or complete overhauls that are regularly scheduled.

Preventive maintenance includes much more than simply performing routine maintenance on equipment. It also involves maintaining accurate records of every inspection and servicing, as well as knowing the lifespan of each part to understand the replacement frequency. These records can help maintenance technicians anticipate the appropriate time to change parts and can also help diagnose problems when they occur.
CORRECTIVE MAINTENANCE: After inspecting, the maintenance & services division will analyze the extent of the damage of the device, and set up a regular maintenance program. All the errors in the report, even the smallest one will also be monitored to ensure that all errors have been handled and overcome. The meticulous attention to every little detail helps us prevent risk to the lowest level for our customers' products later, bring a sustainable benefit to the project.