Since the beginning of the year, Hanoi Health Department has organized a month of communication campaign to prevent mother-to-child transmission of HIV in 2019: Hanging 200 banners of messages on prevention of mother-to-child transmission of HIV on Main street of the city. At the same time, the organization implements activities in the campaign of communication on the topic K = K (not detected = not transmitted); Training on reducing HIV-related stigma and preventive medicine for 60 health workers in Hanoi Maternity Hospital and Thanh Nhan Hospital…

With the attention and support of the Committee of Hoan Kiem District Labor Union, Sigma Engineering organized a program of propaganda and dissemination of Legal education & Drug Prevention, HIV/AIDS, Training on occupational health and safety at the Company's projects. On November 17, the program was held at the Flamingo Cat Ba Beach Resort project, Hai Phong with the participation of numerous workers.

Mr. Le Tung Lam - Head of Safety Department and Trade Union Chairman said at the ceremony: "Drug abuse is a great danger to the whole society, causing harms to health, undermining family happiness, causing seriously affecting the order, politics, culture, social safety and the most dangerous is HIV/AIDS. In order to raise public awareness in officials and employees, especially for workers in units and enterprises of specific industries such as Construction, the socialization of drug and HIV/AIDS prevention and control activities in enterprises and construction sites is extremely important and need the support and attention of the agencies to guide and effectively prevent these types of evils from entering businesses, construction sites, contributing to health care of workers. "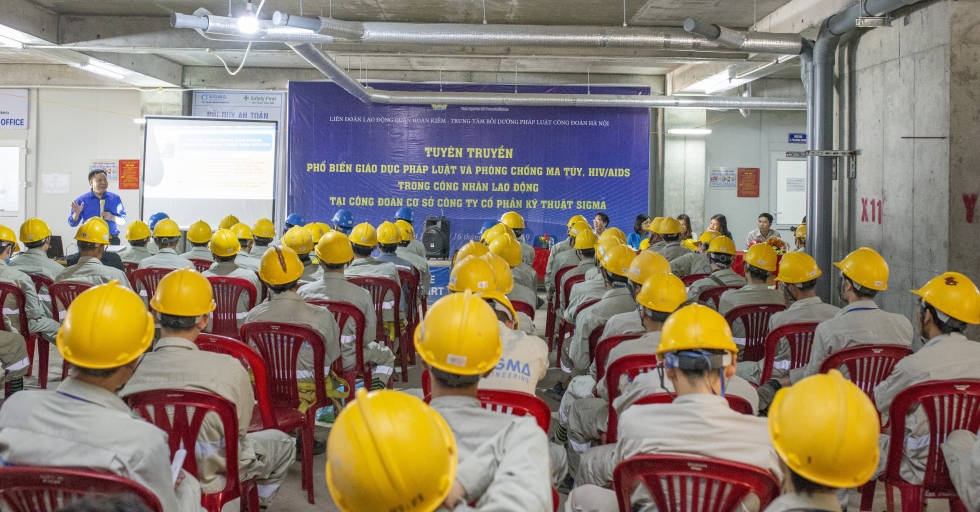 Dissemination of legal education and drug, HIV / AIDS prevention among workers at Sigma
A propaganda and dissemination session was organized to continue raising awareness about drug prevention, HIV/AIDS and occupational health and safety among workers, answering questions, and provide necessary information, thereby knowing how to take precautions for oneself, family as well as propaganda for people around them to improve knowledge, improve skills of self-protection, self-care for laborers at construction sites and dormitories for concentrated activities.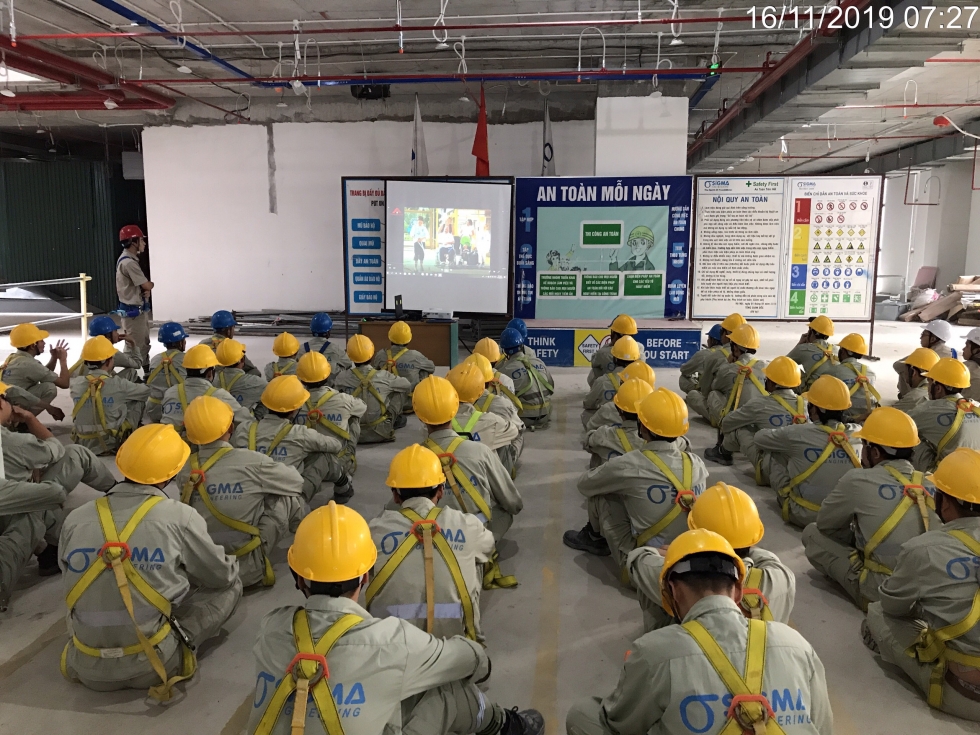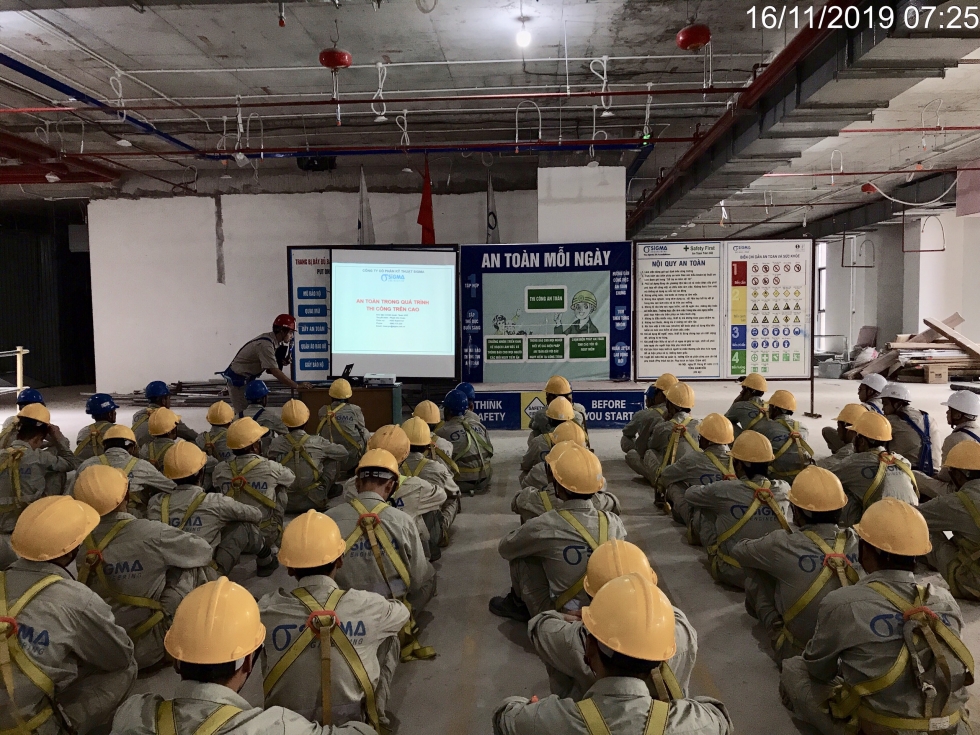 Workers have raised awareness about harms and HIV / AIDS prevention
Through the propaganda session, all members have learned, absorbed and understood the harms of drug use and most importantly, how to prevent when the working time with intensity is increasing, workers do not have time to read books, listen to the radio.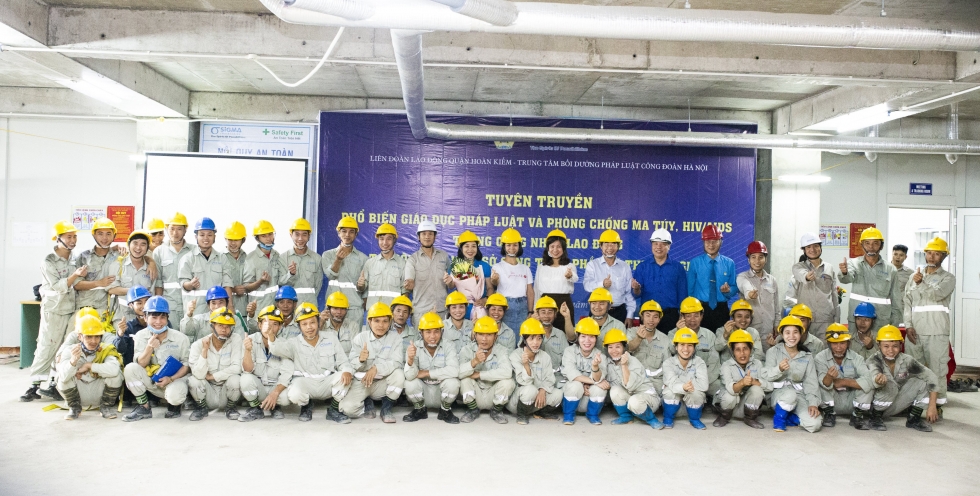 Sigma laborers at the ceremony
The program ended successfully. Not only stopping at Flamingo Cat Ba Beach Resort, the propaganda and legal education on the Prevention of Drugs, HIV/AIDS and OSH will continue to be held at other projects of Sigma, so that laborers can constantly update their knowledge and protect their families, relatives and society.