Energy supply to meet the needs of socio-economic development is and will face many problems and challenges, especially the gradual depletion of domestic fossil fuel resources, volatile oil prices, and impacts of climate change on security and safety in energy supply... Therefore, gradually diversifying the energy supply and electricity sources based on the renewable energy sources that Vietnam has potential, especially the sources of biomass, wind, solar... are considered as one of the sustainable development solutions.

Based on these requirements, assessing electricity from renewable energy sources and developing renewable energy projects in Vietnam until 2020, vision 2030 is very important. This will help to identify the potential of renewable energy sources nationwide and contribute to concretizing the implementation of the national renewable energy development strategy, contributing to reducing regional environmental pollution and ensuring preserving objectives and role of economic development.

According to Electricity of Vietnam (EVN), the current electricity consumption rate of Vietnam tends to double the GDP growth rate, while the electricity produced from hydroelectricity and thermal power is not enough. The demand for energy has put pressure on Vietnam's energy industry, so a long-term development strategy is needed, in which renewable energy development is the right choice to meet the national energy demand. time towards sustainable development.
POTENTIAL RENEWABLE ENERGY SOURCES IN VIETNAM
Vietnam has great potential in exploiting renewable energy sources such as hydro power, wind power, solar power and biomass.

a. Hydro Power
Hydro Power is focused on developing almost maximum in Vietnam. In October 2018, the Ministry of Industry and Trade and the People's Committee removed many potential hydroelectricity projects and locations because of the negative impacts of these projects on the environment and society. This goes far beyond the benefits that can bring about flood control, irrigation and electricity generation.

b. Wind Power
Located in the tropical monsoon region with a coastline of more than 3200 km, moreover the southwest monsoon blows in the summer. According to the World Bank's ESMAP study (see table below), Vietnam's total wind power potential is 513390 MW, which is 213 times the capacity of Son La hydroelectricity plant and 10 times the total capacity of Vietnam today

Another study has shown that 8.6% of Vietnam's territory has a "good" to "very good" potential for developing large wind power stations equivalent to 111,946 MW.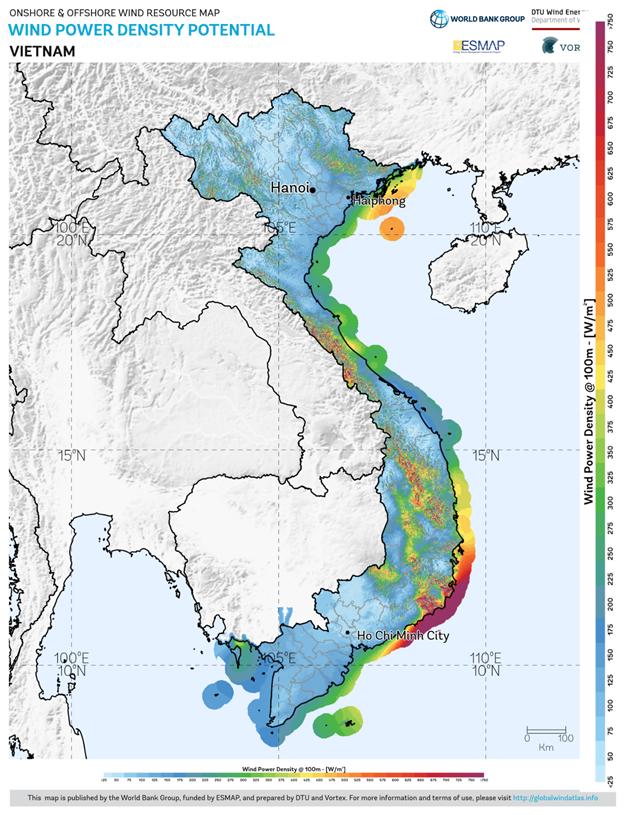 References:
c. Solar energy
Vietnam has great potential to develop solar energy, especially in the Central and the South. The central and southern regions have higher annual average hours of sunshine, from 2,000 to 2,600 hours / year.
Data on solar radiation in Vietnam: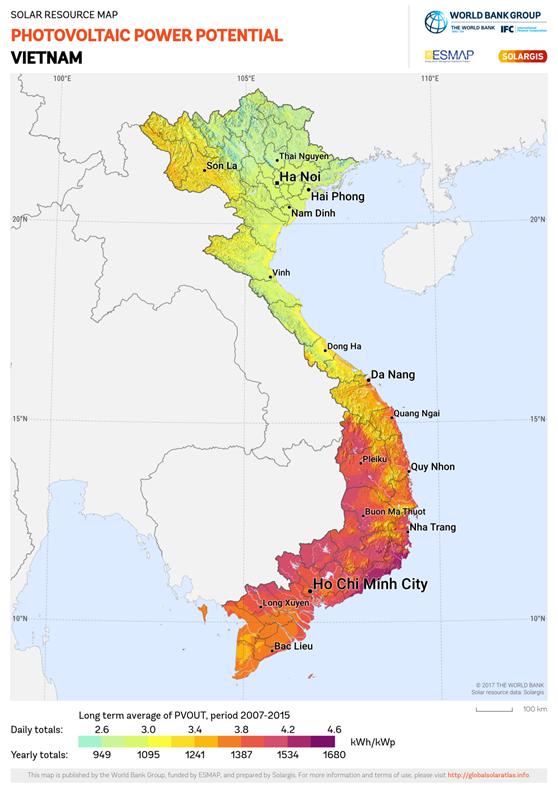 References:
Vu Phong Solar (April 11, 2016). "Intensity of solar radiation in areas of Vietnam". solarpower.vn.
TS Nguyen Anh Tuan and experts of Renewable Energy Center - Institute of Energy "EVALUATION OF SOLAR ENERGY FOR POWER GENERATION IN VIETNAM - OUTLOOK AND RECOMMENDATION"
globalsolaratlas.info

d. Biomass energy
As an agricultural country, Vietnam has a lot of potential for developing biomass energy. Some common forms of biomass: energy wood, crop residues, livestock wastes, municipal waste and other organic wastes. Biomass energy sources can be used by direct burning or forming biomass fuel pellets.
On average, nearly 35,000 tons of municipal domestic solid waste and 34,000 tons of rural daily-life solid waste are emitted daily. In the big cities like Hanoi and Ho Chi Minh City, there are 7-8,000 tons of waste per day. The amount of waste is being wasted due to not being fully used to produce energy.
References:
Quyen Luu (August 19, 2017). "Vietnam has a lot of potential for turning waste into raw materials for energy production." moit.gov.vn.
II. CURRENT SITUATION AND PLANNING ON RENEWABLE ENERGY DEVELOPMENT IN VIETNAM
1. Electricity output per capita, and assess the possibility of Vietnam's electricity shortage

Table of electricity output per capita in 2017 by some countries (according to https://www.indexmundi.com)
Rank Country Electricity consumption per capita (kWh per person)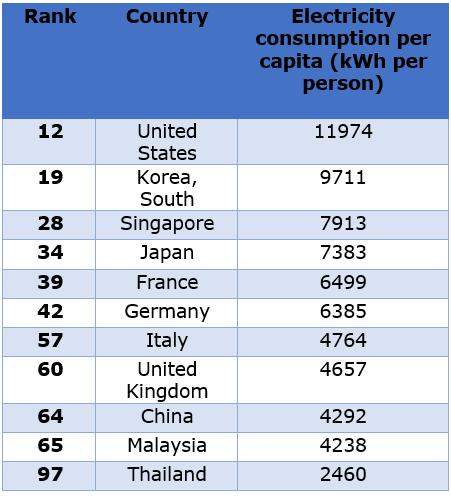 Table of electricity output per capita in Vietnam according to reported data 58 / BC-BCT and Electricity Planning VII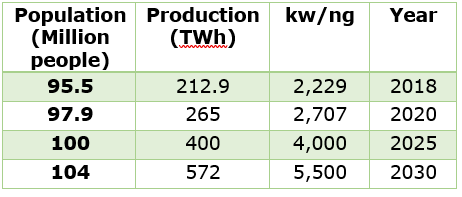 Estimated electricity shortage in the period of 2021-2025 (according to Report No. 58 / BC-BCT):
In 2022: 10 billion kWh

In 2023: 12 billion kWh

In 2024: 7 billion kWh

In 2025: 3.5 billion kWh
(Source: Report No. 58 / BC-BCT, June 4, 2019)
2. Situation of renewable electricity development in Vietnam
The total installed capacity of the system in 2018 is 48563MW and is distributed as follows: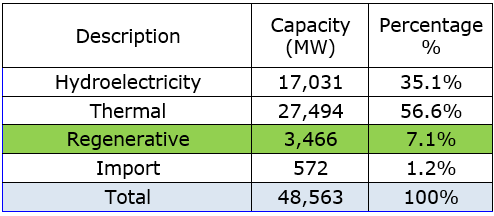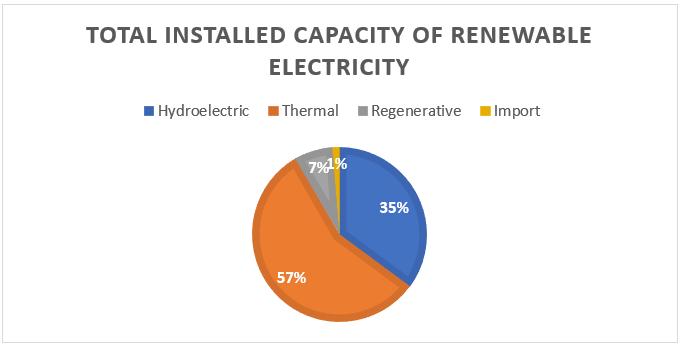 Based on the report No. 58 / BC-BCT dated June 4, 2019
Thus, the electricity capacity from renewable sources currently accounts for 7.1%.

3. Planning on Vietnam's electricity development
According to Decision No. 428 / QD-TTg on Approving the Scheme on adjustment of the national electricity development planning for the 2011-2020 period, with a vision to 2030 (referred to as the revised VII Electricity Planning) With the plan of developing the power source structure as follows:

a. The structure of power source

​