The most notable in the series last weekend was the encounter between the older brother of the two Mechanical and Electrical group: E1 and M1. The strikers from the electrical group seemed to have recovered to regain the form and position inherent. With the score 5-0 in favor of the electrical team, it was the raining goals into the net of the M1 team. It can be said that the determination of the E1 team to save the second ticket into the final game of the season has become more intense than ever. In the previous series, M1 lost three points, but this did not seem to have any effect on them as they topped the table. Taking advantage of the score, M1 still quite relieved when not under pressure in the last two rounds of the tournament.

In another match, M3 did not take advantage of the inherent advantage of E4 to draw in a goalless match. Still holding 11 points and temporarily holding the second place in the ranking, they are still close to another opponents score. Right after the game, M3 "conductor" -Mr. Luong Thanh Trung shared his strategies and a daring way to defeat the E1 team in the upcoming series.

In the remaining pair between Safety and E2, E2 had the leading advantages. But the end of the first half, the Safety players found a 1-1 goal. Into the second round, the two teams were still struggling in a situation when they joined the attack, a Safety player used his hand to pull the ball into the net but the referee did not observe the situation. This was probably because of this psychological inhibition, the E2 players continued to concede and accepted the results of the 1-4 defeat.

Here are the results and the ranking after round 6:

6th round results - SSC 2018: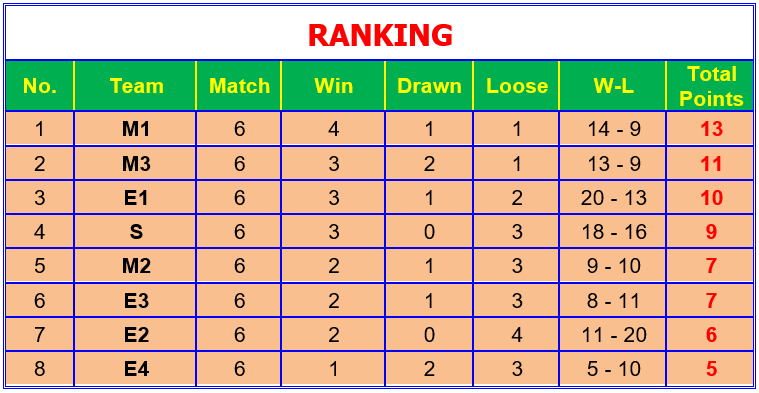 The next games will be updated then!