Opening for the series of round 8 matches is the confrontation between M2 - E3. With the current form of both clubs, this promises to be a well-balanced match for both sides. As expected, both teams deployed a beautiful double attack. In an attacking situation, the M2 players had a goal to open the score 1-0 thanks to the goal of player Nguyen Van Quyet. Having the lead goal, M2 actively played defensively to protect the result. In a focused day of defense, the M2 players neutralized all the attacking balls from the E3 side, preserving a fragile 1-0 scoreline until the end of the match. With 3 points in this match, M2 continues to stick to the top of the table, and they can completely surprise in the following rounds.

The focus of the round as well as in the tournament is the encounter between E1 - M1 in the 2nd series, a match that in any tournament or always receive a lot of attention and interest from the fans. Both teams headed to the match with great determination and their goal was nothing but victory and all 3 points. E1 started the game with a familiar attacking play on the opponent's court. M1 actively gave up the game but also launched heavy counter-attacks on the E1 goal with long-range situations, sending warnings to E1 players about a potentially dangerous counter-attack. The match was tight and exciting in each ball phase. There have been many times when it seemed that the goal was very close to E1, but the excellence of the goalkeeper as well as the concentration of the M1 defense discouraged the E1 strikers. And if luckier in a counter-attack at the end of the match, the M1 players had a goal to "finish" the opponent. Holding each other in a match with a very high level of expertise but lacking a little taste of the goal, the E1 players were very regretful with the results achieved and needed to put all the highest determination for 2 SSOC-2023 group stage final match. As for M1, this result almost brought them one foot into the SSOC-2023 final, and leisurely waited for who their opponent in the final would be.
On field 2, the internal battle of Yurtec between Yurtec Mechanical and Yurtec Electric was not as balanced as the first leg, the Y-M players needed 3 points to continue to stick to the medal dispute positions, and what need was also achieved with a relatively easy 4-1 victory over Y-E.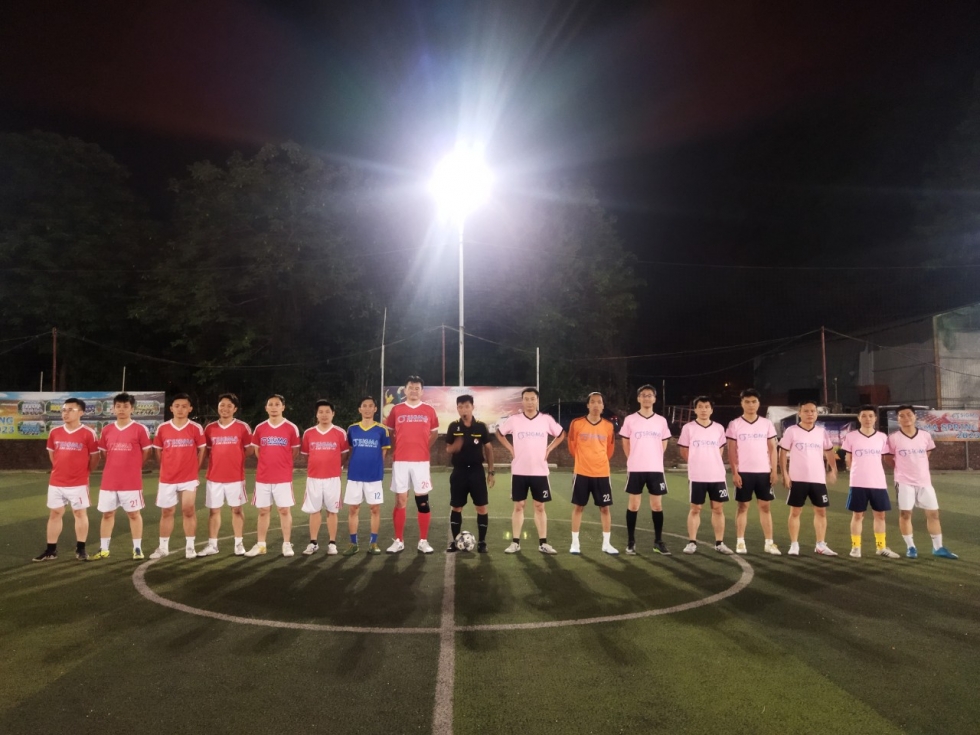 S has excellently surpassed M&S with a score of 4-1 to maintain 2nd place on the ranking

In the final series, E2 welcomed M3 on the 1st field and S faced M&S on the 2nd field. On the 1st field, M3 with the force of adding new players dominated the competition. E2 at the beginning of the first half. But with the experience of the old players on their side, E2 still know how to defend firmly, neutralize the attacking phase and they do more than that when they have 2 goals in the first half from sharp counter-attacks. Entering the second half, continuing the same gameplay and tactics as in the first half, E2 did not let the M3 players have a goal to shorten the score and had a goal to increase the gap, hit demolished the spirit of the M3 players. The match was ended with a 3-0 aggregate win for the E2 players.

On the 2nd field, Safety met M&S in the situation that the match before E1 had a point before M1, which further motivated Safety to win and win with many goals difference. And as determined from the beginning of the match, the S players pressed the opponent from the first minutes of the game. The team of young, energetic players continuously bombarded the M&S goal. It didn't take much time; consecutive goals came to S after the high-class strikes of the Safety players. The match ended with a 4-1 win for S. With this victory, the S players were firmly in 2nd place and full of confidence in the E1 reception in the following round for the decisive game of the 2023 SSOC season.

Here are the details of the results, the ranking after the 8th round and the schedule for the 9th round of the SSOC 2023 football tournament: