To be known with a familiar name in the field of M&E construction of great and high-end projects, since the beginning of 2020, Sigma has continuously strengthened its position through many factory projects such as: Huu Nghi Food Factory, Synergie CAD Factory, Phenikaa LED Lighting & Electronic Factory, ... and the biggest one is the Ben Tre Wind Farm V1-3 project.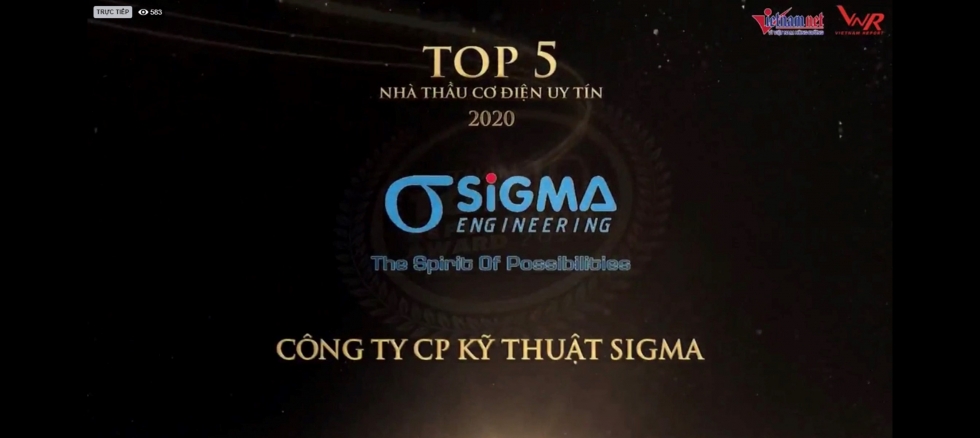 It can be said that the year 2020 marks an important step and a pivotal year when Sigma begins to implement renewable energy projects and promotes operations in the factory, industrial and auxiliary sectors. In addition to the high-end apartment projects, which is Sigma's strength, now we have affirmed our capabilities through the expansion and improvement of service quality in many other categories, ensure absolute satisfaction from our customers.
As a business for three consecutive years honored to be in the Top 10 Prestigious M&E Contractor 2020, Sigma is proud to increasingly affirm its position in the market, committed to providing quality products, class and service the most professional and attentive customer care. This shows Sigma's persistent striving and steadfast bravery in the process of accompanying the country's socio-economic development. The success of Sigma today will be an important steppingstone for a growth spurt in the future, not only enhancing the domestic position but also opening the development direction in the international market more effectively.

Excerpt from the online award ceremony of Top 5 Prestigious M&E Contractor 2020 (Source: VietnamReport)
For the first time, this year's Announcement Ceremony is held in a special form: Using virtual studio technology, broadcasting online and interacting with units via digital platforms. This is a change that has practical significance in the process of changing the number of countries. The Vietnam Report evaluates the enterprise rankings based on the criteria of revenue, profit, total assets, growth rate, labor size and media reputation are also used as additional factors for evaluation.

The rankings are built with the desire to improve the reputation and brand of the business, assist businesses in attracting resources, accessing new business opportunities through increasing the trust of partners, investors, helping businesses improve their competitiveness and develop strongly in the context of deeper and deeper economic integration.