Mr. Cao Van Trong - Chairman of Ben Tre Provincial People's Committee directly met and discussed with investors, in order to find solutions to speed up the progress of energy investment projects in Ben Tre province.

According to the wind power development plan of Ben Tre province for the period up to 2030, which has been approved by the Ministry of Industry and Trade, the potential for wind power development of the province is studied in coastal areas and coastal alluvial areas with the location away from the farthest bank is 12 km, research and planning potential of Ben Tre area is nearly 40,000 ha, capacity scale is 1,520 MW.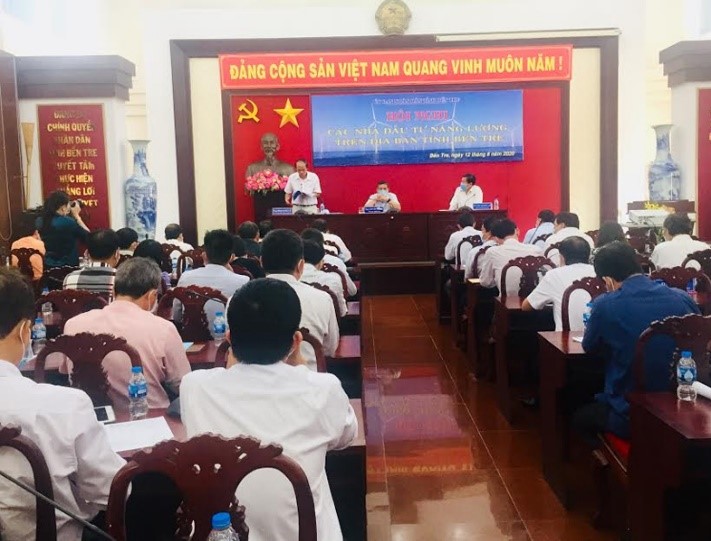 Overview of the Conference
Currently, Ben Tre has approved and deployed 06 wind power plants with a total capacity of 179.7 MW including: Wind Power Plant No.2, Wind Power Plant No.5 and Thanh Phong Wind Power Plant located in Thanh Phu District; Wind Power Plant V1-3 (Ba Tri District), Wind Power Plant No. 9, Wind Power Plant No. 10 (Binh Dai District). Besides, there are 2 LNG gas projects that are completing procedures to invest in 2021.

There are also 7 solar power projects, the local land fund is limited, so the development of solar power is only at a relative level. Therefore, Ben Tre currently focuses on propaganda for the main development of rooftop solar power. Ben Tre also has 13 wind power projects that have just been approved by the Prime Minister to add to the planning according to document No. 795 / TTg-CN dated June 25, 2020 on adding the list of wind power projects to the electricity development planning.

Mr. Nguyen Van Niem, Deputy Director of Ben Tre Department of Industry and Trade, said that although the investors of 6 wind power projects have determination and commitment to the completion of the energizing schedule, the projects are currently implemented very slowly due to investment policy, technology requirements and technical solutions must be adjusted according to complex regulations, especially, there are problems in site clearance compensation, connection plans are not yet consistent, most of them depend on the progress of projects invested by EVN. Moreover, due to the construction in unfavorable weather conditions and the complicated epidemic of COVID-19 ..., not to mention some investors who do not have financial, technical capacity, ... that make the project' progress slowly.

According to Mr. Chau Van Binh - Director of the Ben Tre Department of Industry and Trade, to speed up the above projects, the investor needs to coordinate with the People's Committees of districts in site clearance compensation to ensure compensation policy. As a rule, avoid self-negotiation of compensation price with households, and at the same time, there should be coordination among investors in connection work, sharing benefits and responsibilities in interconnection and synchronize projects.

Listening to the opinions of the delegates, Mr. Cao Van Trong said that developing renewable energy and clean energy is an inevitable trend now and in the future. At the same time, it is also consistent with the development orientation of electric energy of the government. Therefore, the authorities, functional sectors and localities of Ben Tre commit to accompany and create all favorable conditions for investors to accelerate the project.

However, Ben Tre province also requires investors who have just been approved by the Prime Minister to add to the electricity development plan to have a unified discussion on the common connection of 220 industrial lines in Thanh Phu and Binh Dai areas. Because of the sharing responsibility and benefits among investors, at the same time participating in the proposal for construction of EVN's items to speed up the progress of power grid projects, accompanied by several priority mechanisms. For projects that have been submitted in the past but have not been added to the planning yet, a specific time commitment is required. If they are not added, they will be recalled.