On the first field, E2 team was excited after the opening win against M1, who was very "thirsty". Despite injury and lack of strikers, with M1's squad, not many people think they are so fragile. M1 received 4 consecutive goals in the first half of the match before E2. In the second half, despite still attacking diligently in the hope of earning points in this match, the M1 players still had to receive the 5th goal, ending a sad weekend and the last position in the rankings for M1. If they do not want to become the former king soon, the M1 players need to be themselves.

On the second field, there was a fateful clash between M2-E3. The drizzling raindrops on Bang B stadium seemed to adorn the rain of goals created by the two teams. The match in a row with goal celebrations from both clubs, ending the two official matches, with better utilization, the M2 players took a 6-4 win over the thrilling E3 players.

The second series took place on the No. 1 field between E1 and M3. The E1 players with familiar gameplay quickly forced the opponent to return to the home field, organizing the brakes continuously. Shortly after the opening whistle, they got what they needed was the opening goal of the player Nguyen Quang Ngoc after a sensitive 1-touch shot in a narrow corner. Continuing with the excitement, the E1 players had 2 more goals before the first half ended. In the second half, not satisfied with the score of 3-0, the E1 players continued to attack and gave themselves 3 more goals. At the end of the match, M3 gave himself an honorable goal and ended the game with a score of E1 6-1 M3.

On the second field, with a shock loss in the first round, the Safety players have put all their determination into the desire to win all 3 points against the M&S players. It was raining, the pitch was slick and wet, bringing luck to the S players. After a kick from the S team goalkeeper, the ball flew through many players before reaching the net of M&S. Having a leading goal, the players easily impose the position as they want and also find more goals to increase the gap after that, the match ended with a score of 3-0 in favor of S players that was completely deserved.

Here are the results and rankings after round 2: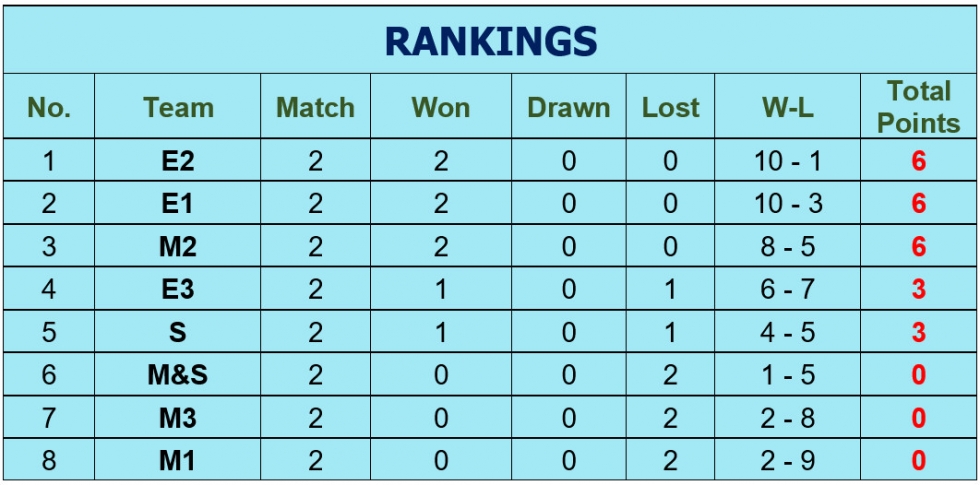 We will continue to update our football news in the next news!